Grammarly: My writing hack!
Grammarly: My writing hack!
Today I bring you a brief review of one of my English writing hacks, kind of a savior on a lot of e-mails I've sent in a rush when I write a lot of typos and distraction gets the best of me, so I even forget about proper grammar or syntax! It's not that I don't know how to write English, but after testing this, I was just amazed by how lazy I was sometimes and how Microsoft Word was not finding all my mistakes!
Note: if you sign up and install the app with my affiliate code (based on banners and links), please do so in a desktop, as mobile conversions are not yet being considered for me!
Please, say hi to Grammarly: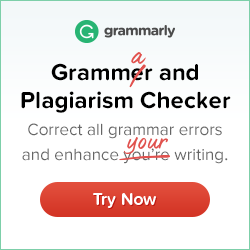 In the next paragraphs, I will tell you a bit of my own experience and what convinced me to test it some years ago and keep using it until now. I will share some screenshots from the free version along with the overview so you can have an idea, but I urge you to try it on your own, even if the free version (please, don't forget to use my referral code if you do try any of the options). I'm not going to do a long post explaining every feature and how everything works because it's very intuitive when you get started and you can get all that from their website/FAQs and other bloggers I will mention at the end. However, before we go, please bear in mind that this is not the all-powerful mighty Grammar God that will get and correct all your mistakes as AI solutions also grow and evolve… They are not the perfect utopic end-solution that will fix all your issues, but it will correct your text more and way better than you have experienced so far!
I have been using Grammarly for the past two years, mostly the browser extension and the web app, for work or personal content, although I used to use the Microsoft Word and Outlook plugin when I had a Windows computer at work. Also, I've already recommended it to Pedro (my partner) a while ago because it can do wonders, especially when writing e-mails or business deliverables. It corrects in real-time, in a very appealing and visual way, and suggests what it thinks should be the correct word or even the correct sentence fragment, together with an explanation of why it should be different. If you use their web application, you can also check for synonyms to make your text more diverse (or find that specific tricky word you can't remember, and that would fit way better in a particular context). Yes, it's not just a basic word corrector like the standard ones you may have tried on your word processing program (like Microsoft Word) or computer (like the one that comes with my MacBook Pro), but a very comprehensive and robust solution that is enhanced by Artifical Intelligence.
One of the most common ways you can use it is on the web, as a browser extension, either on the pages where you are typing or using their web app (on their website). You can use it in almost any page online, if using a compatible browser (check their FAQ about this to learn more) and enabling Grammarly extension, so it will work on your e-mail account, when answering surveys or commenting on forums and blogs, typing on Facebook, just to name a few… You'll see the magic happening on the screen where your working and you only need to click on the corrections if you want to accept them, you don't need to rewrite the words/sentences yourself.
If using the web app, you can also create or upload documents directly there, and it will even save your texts there. Their App has a lot more features than if using it on other applications. So, if you are using the browser extension on another website (e.g., Gmail) and want to get the additional features you would have with the web app, you just need to click on the Grammarly icon near the text, and it will take your text and you right to a Grammarly pop-up. In that pop-up, you can further edit your text in a more comprehensive panel and change some settings, and then you can get back again to your original screen by clicking on a button again. Unfortunately, it seems like this pop-up is more limited than the web app because it does not show you word synonyms (like you can get on their web app), although underlining the word in blue as in the web app. For that reason, I only use the quick version on the specific website screen and, if I want to work on more comprehensive work, I take it to the web app instead of using the Grammarly pop-up screen.
You can also download their plugin for Microsoft Word and Outlook or use their desktop App. Yup, you can use it together with Microsoft Office products, even though there were some small issues when I tested: the plugin does not work on MacOS, and the "undo" command may not work on Windows. When using the plugin on Microsoft Word/Outlook (Windows version), you will need to enable/disable the plugin by clicking on it on the header whenever you're not using it, to make sure you don't stress after deleting a full text by mistake and not being able to get it back. Despite not being able to use it on Microsoft Office in a MacOS (and hence I can't check whether the "undo" issue has been solved meanwhile), you can install the MacOS application. Then just drag and drop your text files into the App and get that text back to Microsoft Word and format it as needed (haven't tried this one yet, however, as I usually use the web app, but it should work). Also, I'm yet not sure if this would work with Word and Outlook online if using OneDrive/Office 365 online/web version (I still need to check this further, as my first attempts were not successful).
Furthermore, it also has a mobile keyboard that you can use instead of your own iOS/Android OS version but I've not tested that yet, so I don't have an opinion about it. Remember I told you some days ago that my reviews would always be honest and transparent, so I'm not just marketing a product but rather telling you my own experience.
It also has some additional interesting features you will be able to explore later when trying 🙂 such as allowing you to set goals (so it understands the type of text and tone you want to follow) and checking a lot of cool and some valuable statistics (how well you did, how easy is your text to read, etc.)
Robots are not replacing us; they are helping us perform better, instead! Why not trying it?
There's a free version (the one I've been using until recently) that will for sure convince you that you won't be able to live without it after you give it a go. If you also become a massive fan like me, I recommend you to upgrade to the premium version, as I did last week, as you will only then be able to get more comprehensive and complex reviews (e.g., word choice, punctuation in compound/complex sentences, weak or uncertain language, improper sentence formatting or incorrect phrasing, passive voice misuse, etc.). It can also give you suggestions of different vocabulary so that you won't sound so repetitive, and check your text for plagiarism. Have a look here for more information and to get the full list of features (but don't forget to get back here and click on my banner/affiliate code if you then decide to install it, please).
To wrap up, here are my top pros and cons of using it:

Pros:
1 – It works for everyone, for professional work or with daily e-mails, for any age or knowledge/language level;
2 – It is compatible with a lot of browsers/websites and even mobile devices, and you can use their App or the Microsoft Word and Outlook plugin if you have Microsoft OS, on up to 5 devices;
3 – It has a free version that is already good enough for everyday life and standard/average business deliveries without significant mistakes;
4 – It supports American, British, Canadian and Australian English and different types of goals (business, casual, formal/informal, etc.);
5 – It's Ad-free, as getting the free version does not mean you will be distracted; it just means you'll get fewer features.
Cons:
1 – There's no plugin for Microsoft Office on MacOS, nor Microsoft Word Online if using OneDrive web (even if using the browser extension);
2 – It does not support other languages besides English;
3 – The premium versions' price may be too high for some countries, especially if paying full-price (for the first years it seems okay, but then after a long time, you start thinking of subscription model vs. one-time payment)… but don't forget they need to maintain it and continuously improve it;
4 – There's no family plan like you have in Spotify or Youtube subscriptions so it's expensive if we all want to have our individual account at home and have to get the business account, even though we're not a business, or keep/pay for several accounts;
5 – If using the web app with vast volumes of text or lists in one article, it may miss and skip some mistakes (I'm currently reporting this to them so they can troubleshoot it and give me feedback on it).
If not yet convinced by me, check this out:
Forbes:
– The amazing ways google and grammarly use artificial intelligence to improve our writing
– The 10 best ways to edit your copy
Other reviews that can give you a more comprehensive view on the features (but if signing up, please come back to my page instead of using someone's else affiliate link so you can help my website/blog grow):
– Becomeawritertoday.com – grammarly review
– PCMag Grammarly Review
Just try the free version or enjoy a discount on the premium upgrade using my affiliate code, by clicking here or on one of the banners (at the top or below)! If trying the free version, please ensure you sign up and then download one of their free products, all using the desktop!
I hope you enjoy it as much as I do! Don't forget to comment on this post with your opinion, especially if you dared to try it 🙂

See you soon,
Andreia